Restaurant swap
The team from our Michelin restaurant Kong Hans Kælder in Copenhagen has now relocated to Henne as part of a restaurant swap with Henne Kirkeby Kro, who on the flip side has travelled east to take over the kitchen of Kong Hans in the heart of the capital city. Both restaurants joined the same ownership last year and now celebrate this anniversary by pursuing the dream of a restaurant swap.

The swap takes place this week from Wed. 17th May-Sat. 20th May, 2017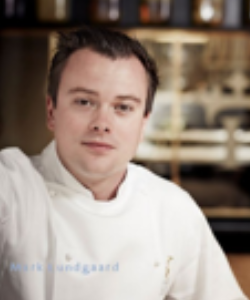 ;
Reservations are still possible. Relish an evening with Mark Lundgaard to discover why he earned back the Michelin-star to Kong Hans. The menu these days at Henne Kirkeby Kro will showcase the Copenhagen style of Kong Hans. Prices, however, will be the inn's usual menu prices. Below is an intro to the menus. Lunch menu (4 courses plus optional cheese selection on trolley)
Course 1 – White asparagus with fjord shrimps & sauce mousseline
Course 2 – Backed cod with cockles, leeks, tomato, & saffron soup
Course 3 – Pepper steak with pommes purée
Course 4 – Vanilla panna cota with strawberries and strawberry sorbet

Petit fours: Toffees, choco truffles, sable breton
Evening menu (5 courses plus optional cheese selection on trolley)

Snacks: Oysters, quail eggs with caviar, crab melts, malt sticks with smoked cheese cream, lumpsucker caviar pie. Amuse bouche: Venison tatar with crème fraîche and caviar.

Course 1 – Turbot on bones with peas, faba beans, pickles green tomatoes & beurre blanc
Course 2 – Black lobster tail with green asparagus & sauce hollandaise
Course 3 – Roasted foie gras with rhubarbs & onions, Rhubarb sauce with foie gras drippings.
Couse 4 – Saddle of summer venison with white asparagus, pepper sauce and new potatoes
Course 5 – Crepes suzette with vanilla ice cream.

Petit fours: Toffees, choco truffles, sable breton, Danish "goderåd "cookies
The breakfast will be a wide variety of à la carte breakfast dishes.
Prices
Evening menu price DKK 1.250,00 per person
Evenin wine menu DKK 1.250,00 per person
Lunch menu price DKK 595,00 per person
Lunch wine menu DKK 425,00 per person
Breakfast is included in the room rates

The menu is subject to changes. Prices are including VAT, but excluding champagne for snacks, optional cheese selection and evening coffee.

Reserve table at Henne Kirkeby Kro by phone + 45 75 25 54 00/mail info@hennekirkebykro.dk




Chef Mark Lundgaard who has been in charged of the classic kitchen at Kong Hans Kælder since September 2014 is eager to go west to exploit the kitchen garden of Henne Kirkeby Kro. Chef Paul Cunningham has set the culinary line at Henne Kirkeby Kro since early 2012 and greets this long desired reunion with Copenhagen.